CUSTOM COOLING SYSTEMS
With An Attitude! by STURM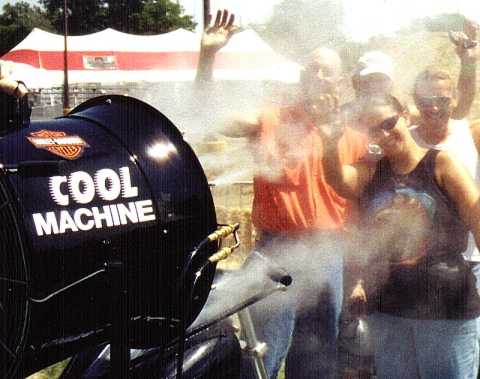 "OHHHHHHhhhh..... AHHhhh That Feels Good!"
Heat Relief Ideas & Concepts
For festivals, special events,
promotions, concerts, race tracks,
and anywhere the outdoor heat effects
your customers!
ALL-NEW FOR 2007 & 2009 EVENTS & PROJECTS
The COOL MACHINE seen below is
available for immediate bookings!
Contact Dieter Sturm for rates and
availability at dsturmfx@aol.com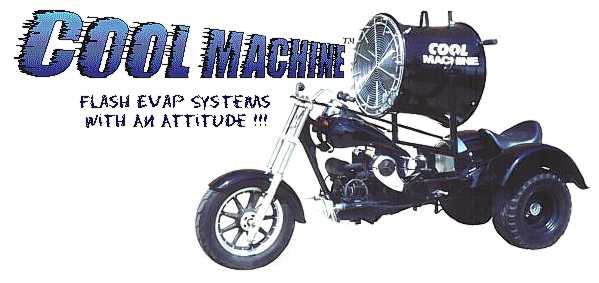 The COOL MACHINE recently appeared at STURGIS 2003 sponsored
by the HARLEY-DAVIDSON Company for crowd cooling.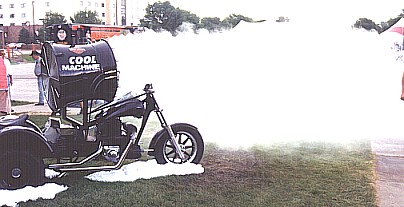 CREATE YOUR OWN COOL ZONE
The Cool Machine incorporates 21 precision atomizing nozzles
placed in front of an axial fan producing 10,000 CFM of airflow.
The resulting atomized water particles are blasted into the ambient
hot air where the particles "flash evaporate" causing an extreme
temperature drop. The people in the cool zone don't even get wet
just cooled down!
SEE HOW THE COOL MACHINE WAS BUILT (click here)



Drops temperatures 20+ degrees!

Interested in having your product
designed into a COOL MACHINE?
BEVERAGE BRANDS -
Soft Drinks, Energy Drinks, Bottles Waters, Beer, Liquors
FROZEN FOODS / FOODS THAT HAVE COOL Themes
TOYS / ELECTRONIC GAMES
TOOL BRANDS
AUTOMOTIVE PRODUCTS



Concept Design- Sturm 2003
SPECIALTY THEMED COOL MACHINES -
*Motorcycles
*SUVs
*Race Cars
*Sports Objects ie: Football, Volleyball, Baseball, etc.
*Recreational Vehicles
*Animals
*WHATEVER YOU CAN THINK OF!!!

CONTACT Dieter Sturm to discuss your ideas and how
your product can be seen and enjoyed by thousands!!!!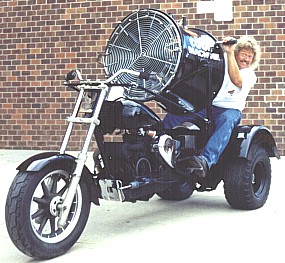 Dieter Sturm drives around his latest creation!
Yes, it started out as a John Deere lawn tractor!

Radical State-Of-The-Art
Flash Evaporation Water Mist Cooling
Vehicles, Props, and Systems
Exclusively Designed & Built By
STURM
SPECIAL EFFECTS & SNOW MAKING

Introduce these ideas into your next planning meeting..
EXCELLENT FOR SPRING BREAK PROMOTIONS!
SuperSoaker Nozzles can also be added!!!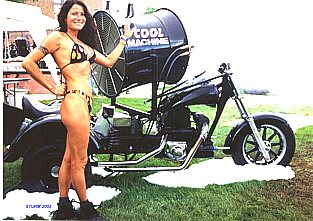 These Ain't Just Some Simple Misting Fans Baby....!!!

262-245-6594 dsturmfx@aol.com
*Misting Systems exclusive from KOOLFOG - the leader in high tech components
Check out other COOL ideas from STURM
STURM HOME