SNOW MAKING RENTALS
STURM's SPECIAL EFFECTS * SNOW MAKING By STURM
LAKE GENEVA, WISCONSIN
262-245-6594

ALSO AVAILABLE
SNOWFOAM GENERATOR * SNOWFLAKE GENERATOR
SNOW BALL MACHINE
If not listed on this web page, call direct for details.

It's WINTER - Its COLD - but.... NO SNOW!!!!
NEED PILES OF SNOW FOR SNOWMOBILE RACES, WINTER FESTIVALS,
TESTING, or SPECIAL PROJECTS??


The portable "BIG GUN" Snowmaker -Setup and Operation By STURM
CALL FOR PRICING & AVAILABILITY

Also Available WHISPER SNOW GUNS
Make your own snow just like they do on the ski slopes!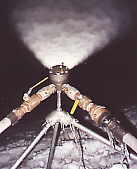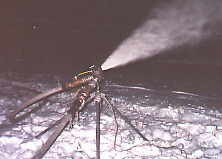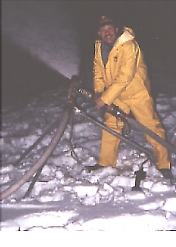 4 WHISPER SNOW GUNS AVAILABLE FOR RENT

Used on such MOVIES & TV commercials as
"FARGO", "HORSE WHISPERER", "GM COMMERCIALS" & MORE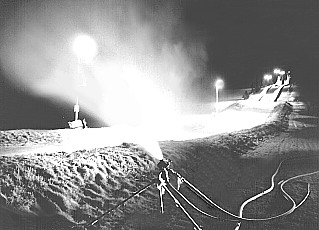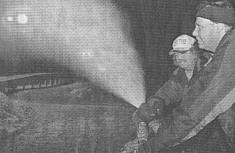 RENTAL RATES
$600 per Snow Gun, per 7 day week
SPECIAL: $999 for 2 Snow Guns, per 7 day week
Rentals rates are for snow guns only. Additional equipment / resources
listed below are the responsibility of the renter.
RENTER PAYS FOR ALL SHIPPING

SIMPLE TO USE. EASY TRANSPORT.
DOES NOT REQUIRE ELECTRICITY.

Renter will need the following items
Requirements: Air Compressor (minimum 185 cfm+ per gun / 80-100 PSI)
Water Source (pond, fire hydrant, water truck, etc.)
High Pressure Pump (if required)
Splitters/Valves (if multiple set-ups are required)
Hose (fire hose 1-1/2" for water
and standard high pressure air hose)
BELOW FREEZING TEMPERATURES REQUIRED

SPECS
Ideal Set-Ups
WARM TEMPS COLD TEMPS
15 Gal Per Minute 80 Gal per minute
Air Up to 300 CFM Air Up to 400 CFM
Water 80 PSI Water 100 PSI

Disclaimer: Both air temperature and humidity are major factors in
making snow with these types of snow guns. Operating instructions
and temperature charts are provided with each rental.
Because of unpredictable weather conditions and operator experience,
STURM is NOT RESPONSIBLE for the end results of using such equipment.





More Rentals- UNDER CONSTRUCTION

SNOWFOAM GENERATOR
SNOW FLAKE GENERATORS
SNOW BALL MACHINE