LOOKING FOR A NEW COOL IDEA ???
SNOW MAKING IN WARM WEATHER!
.... and they said it couldn't be done!!!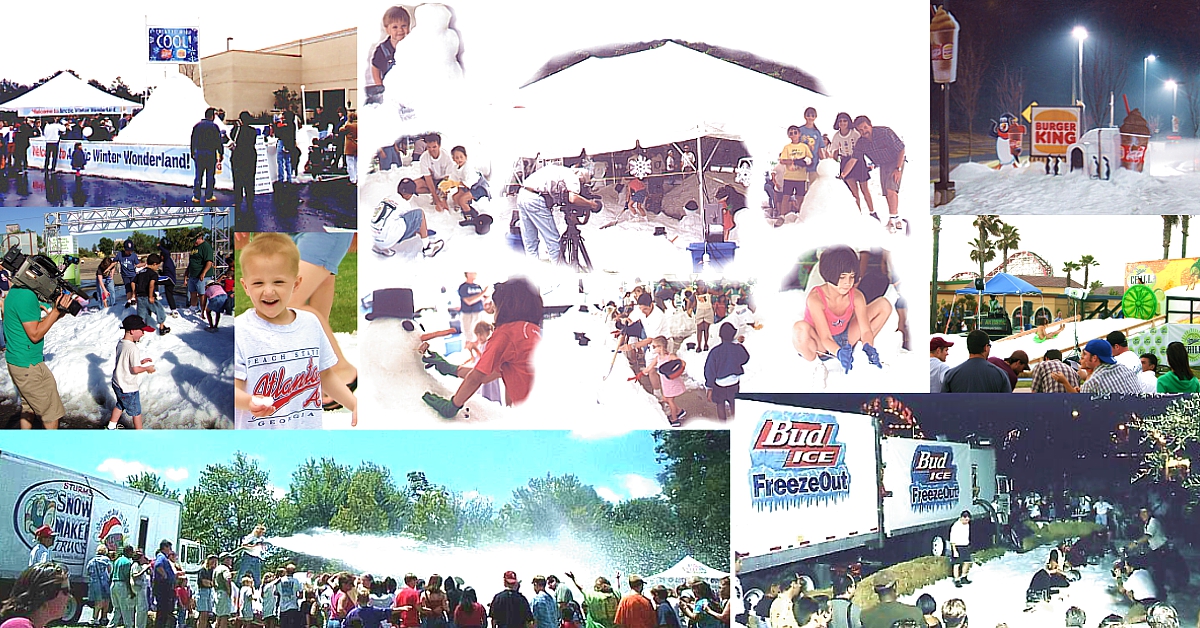 Welcome to Sturm's
STURM's SPECIAL EVENTS & PROMOTIONS DIVISION


ATT: MARKETING MANAGERS, PR DIRECTORS,
SPECIAL EVENT COORDINATORS
NOW BOOKING FOR SUMMER, FALL & WINTER 2021
and 2022 Events including Spring Break

NEED REAL SNOW ??
Here are some samples of our snow making work.....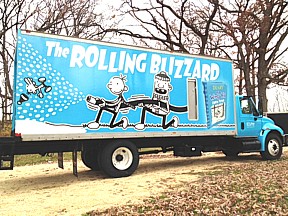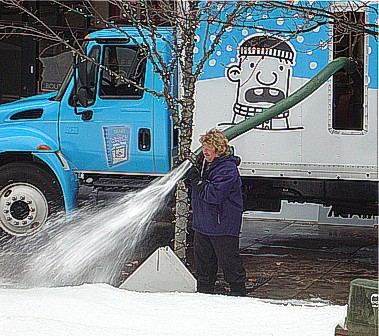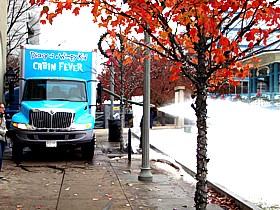 Diaries Of A WIMPY KID "Rolling Blizzard" East Coast Tour
Cherry Hill, NJ, Washington DC, Richmond, VA, Charollete, NC, Atlanta, GA, Miami, FL
6 Cities in six days, 120 Tons of Real Snow
3,500 miles on road miles logged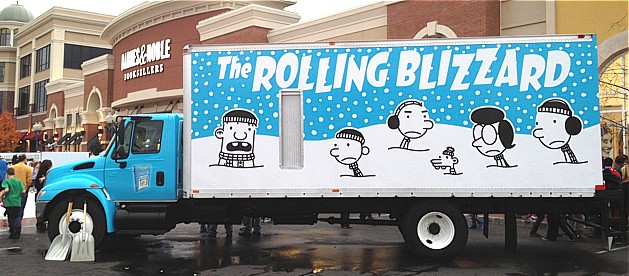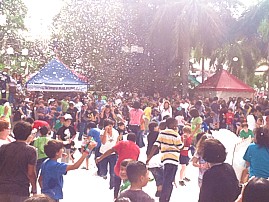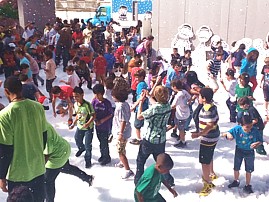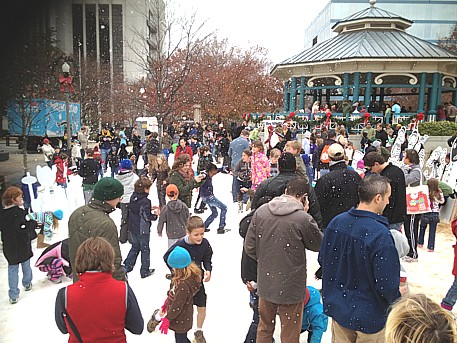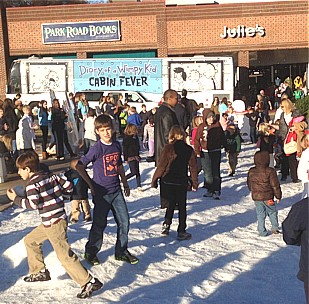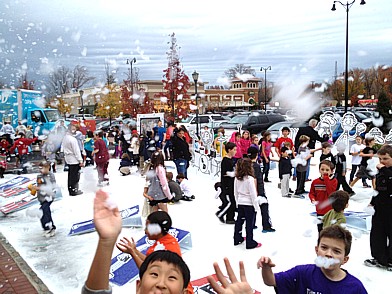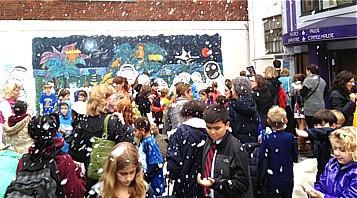 "The tour was amazing. We could not have done it without you. You and your team were wonderful..
You are a huge pro. We will never stop raving about you!
Cabin Fever is the #1 book in the USA by a large margin -- you played an important role in making that happen!
Many Thanks" Jason Wells, Executive Director, Publicity and Marketing, ABRAHAMS PUBLISHING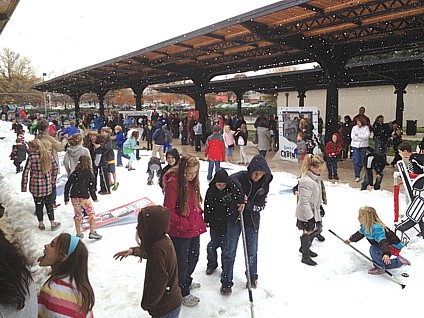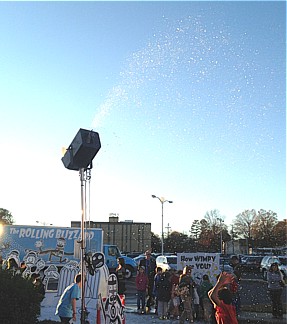 Thousands of Kids and Parents Played in the Real Snow having FUN!!


SNOW BANKS 2020 in Cincinnati, Ohio
Four weekends of January wintery fun and events in Downtown "The Banks"!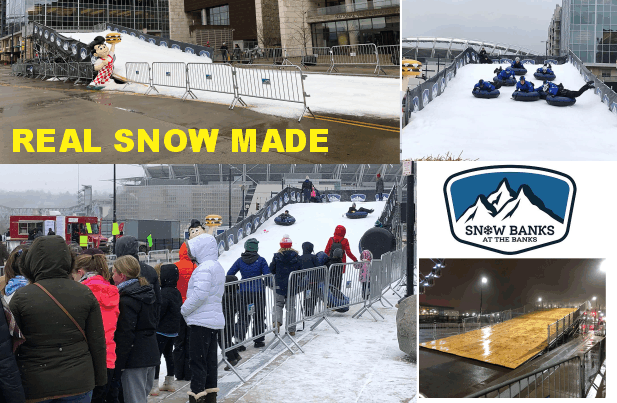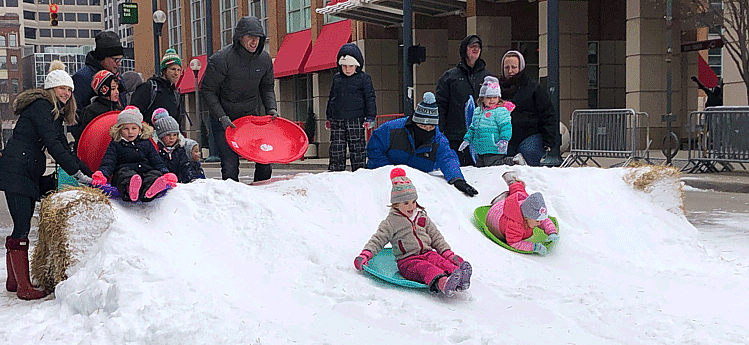 * * * * *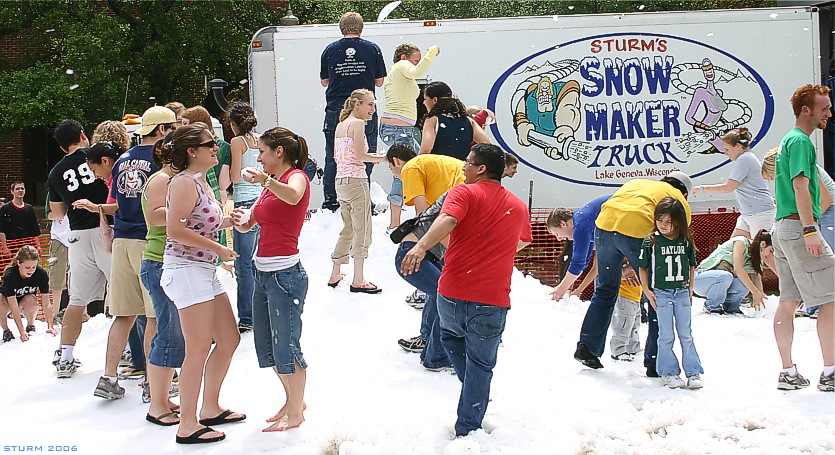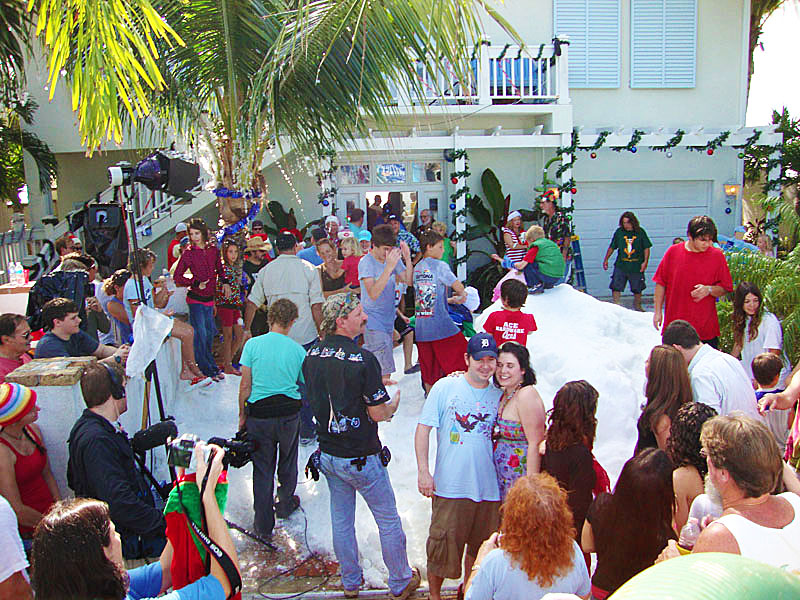 The Ultimate White Christmas Contest / Aired LIVE on The Weather Channel
Winner received real snow on Christmas morning in Summerland Key, Florida made by STURM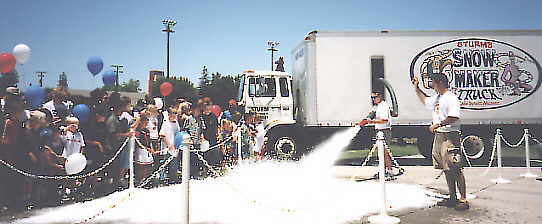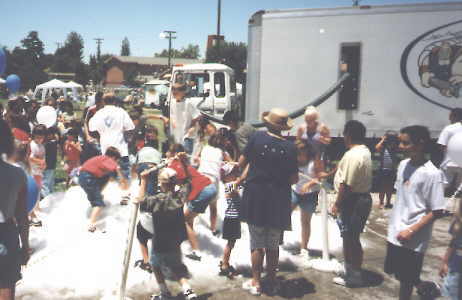 SNOW IN CALIFORNIA Sturm's Snowmaker Truck produces
800 lbs. of snow per minute for a special event
SNOW = MEDIA COVERAGE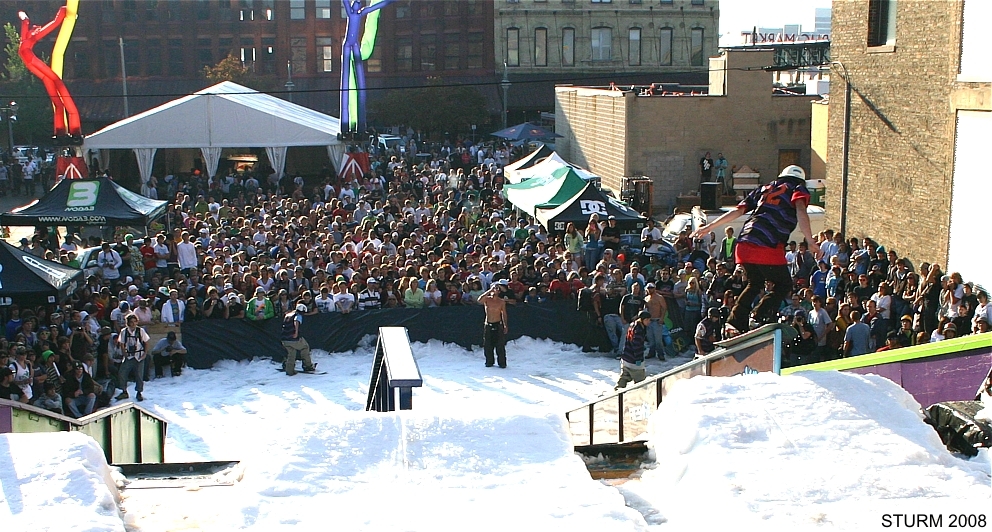 SNOW IDEAS
Incorporate real snow into such activities as:

"Dog Sled Drag Racing" (using college students), Beer/Soda Promos, Volleyball in the Snow,
Pre-Christmas Events (Malls), Snowboarding/Ski Promotions,
Spring Break Events (MTV),
Auto Races/Sports Events, Corporate Parties, Super Bowl, Snow Tours,

New Product Kick-Offs, etc.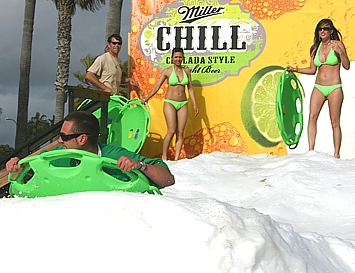 Miller CHILL Tour (Texas & California)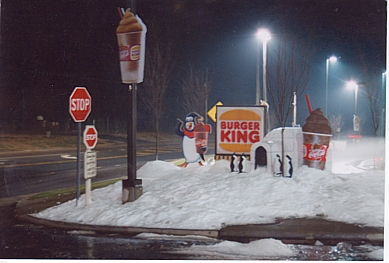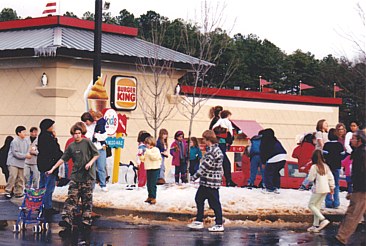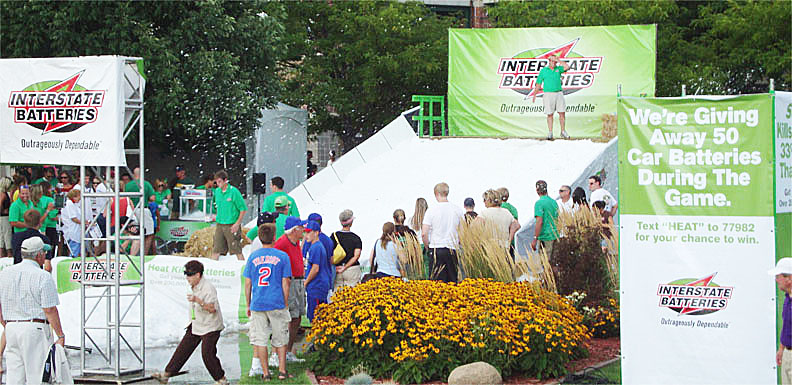 5 City USA SNOW Tour


"Dieter and the Sturm team were amazing partners on our Interstate Batteries project.
They are true professionals who handled every situation that arose with care
and consideration. They understand the clients POV and are always working in the best interest
for the project at hand and the final results. It was a pleasure to work with this group."
Kim Lawton- Vice President
Inspira Marketing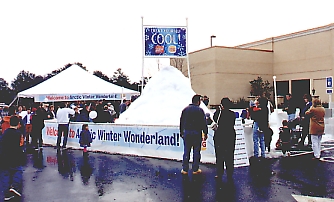 PROVEN RESULTS- Test Market Promotion January 1999
Sturm's snowed in a Burger King for Coca-Cola in Atlanta, GA.!
5,000 - 7,000 people visited the Burger King THAT day!!!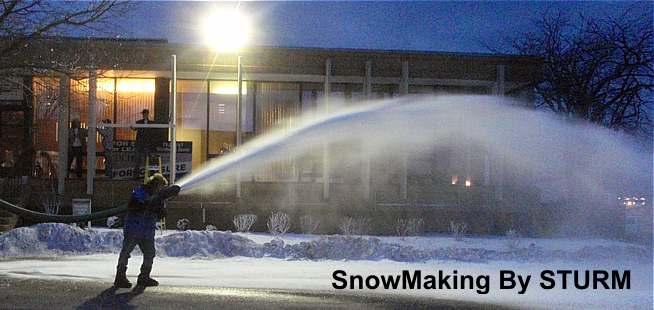 The FASTEST portable snow making system there is!
Systems from other companies take 24 hours to 48 hours to produce
the same amount of snow that we can make in just a few hours.
HOW ABOUT SOMETHING COOL BUILT OUT OF ICE???
THE ICE BLOCK MAZE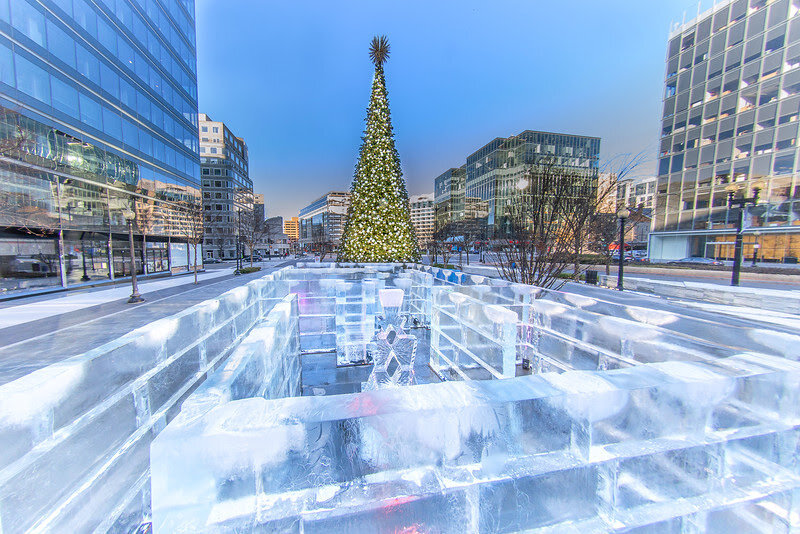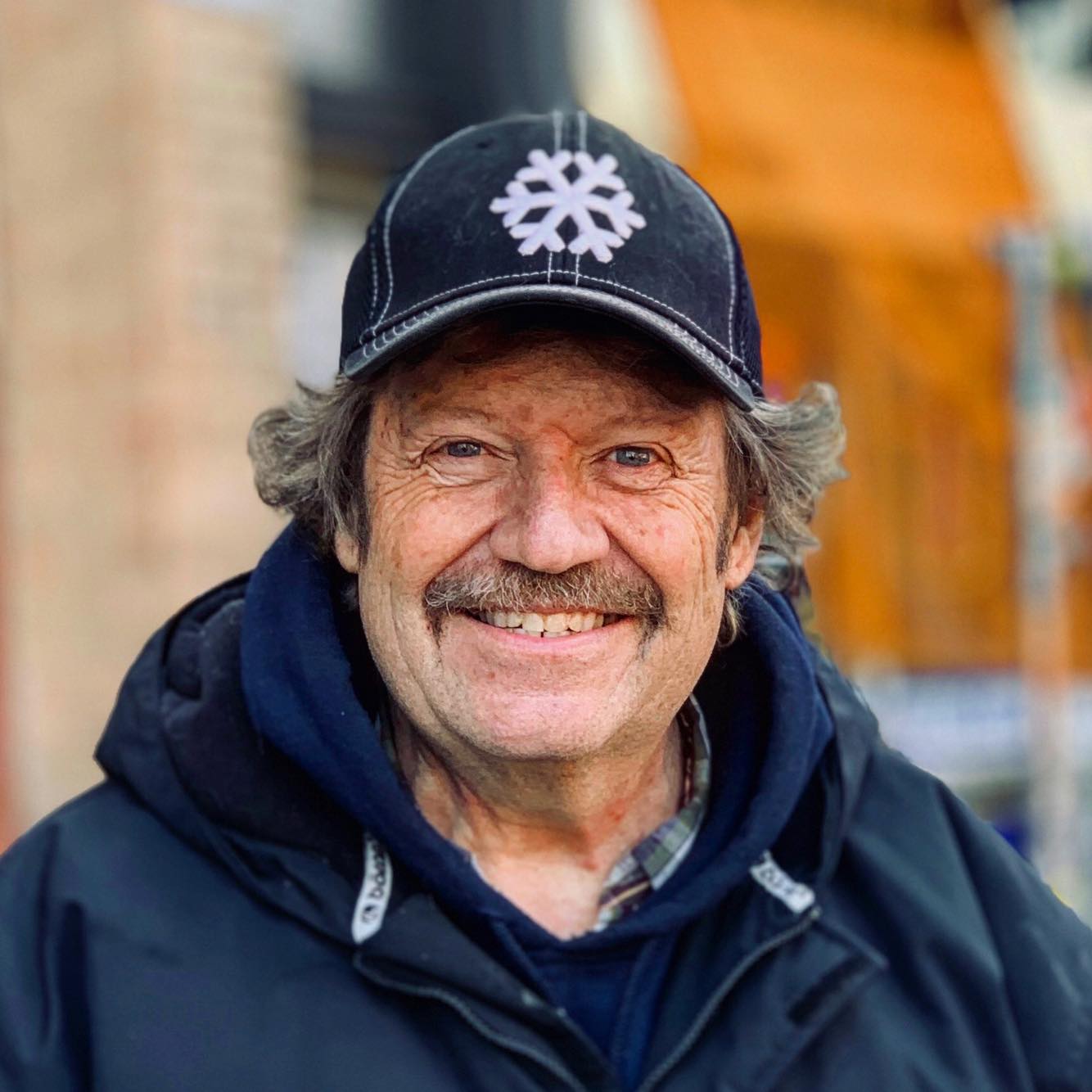 Dieter Sturm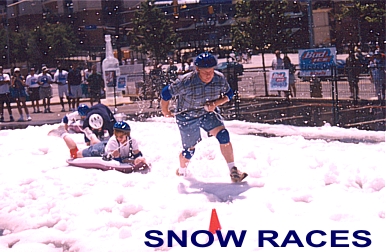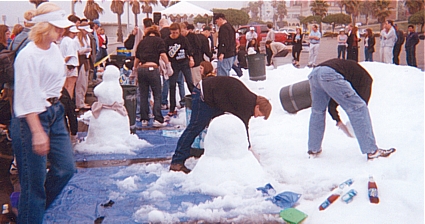 LESS SET UP TIME - SAME DAY SNOW
SNOW IS PRODUCED AT A RATE OF UP TO 800 Lbs. PER MINUTE

PLAN Adding HOLIDAY SNOW This SUMMER !!!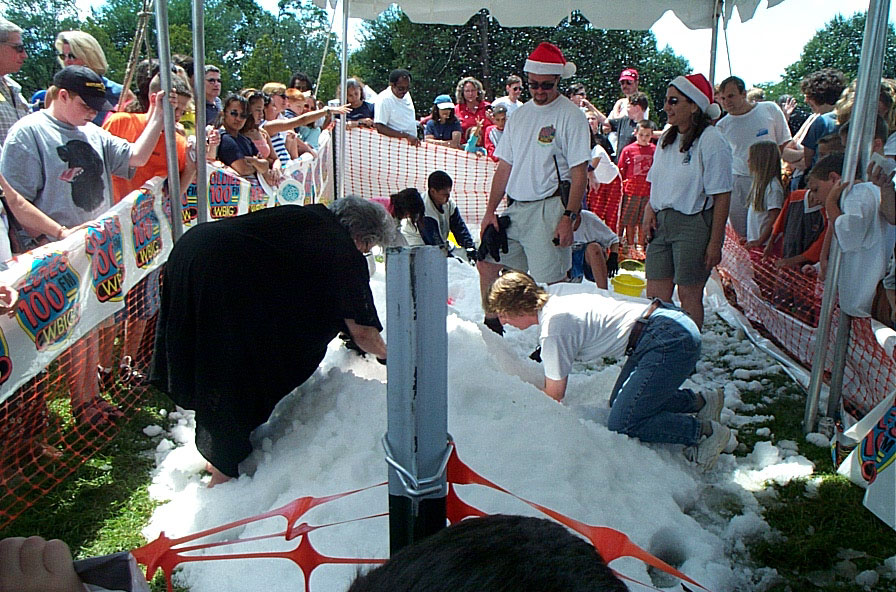 The Avalanche Buried Treasure Hunt Contest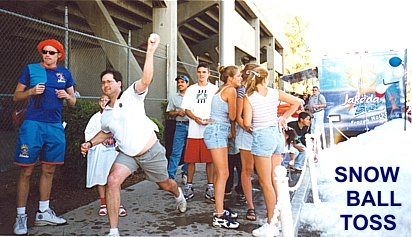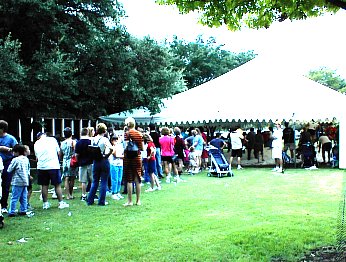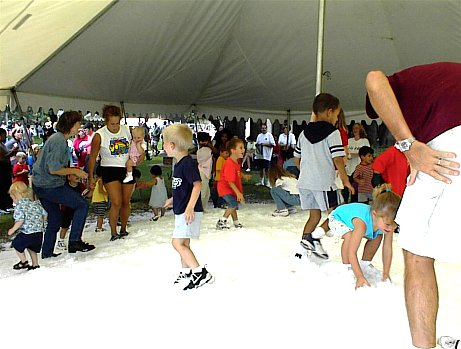 The Great Fountain Plaza Festival, Richardson, Texas
REAL SNOW -EVEN IN WARM TEMPERATURES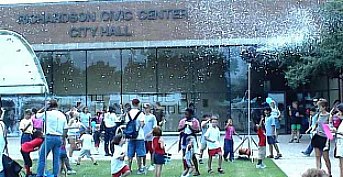 Sturm's SNOWFLAKE TOWERS In Operation for FALLING SNOW Effects!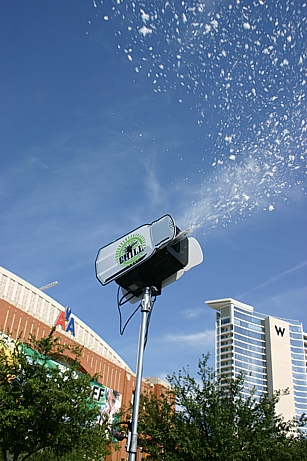 Great for special events, promotions, shopping malls, attention getters, parades, and more!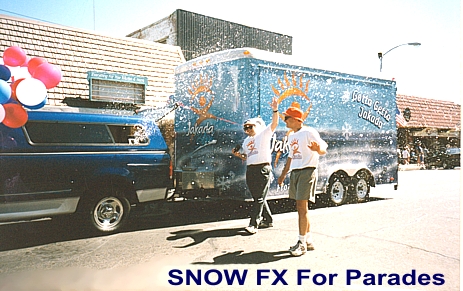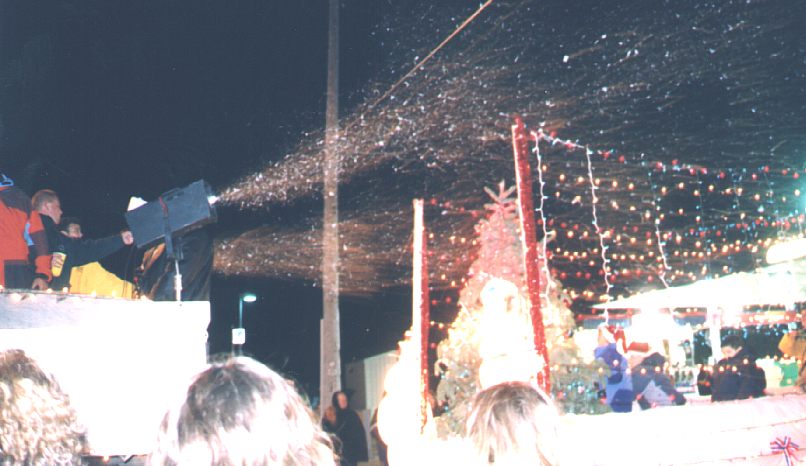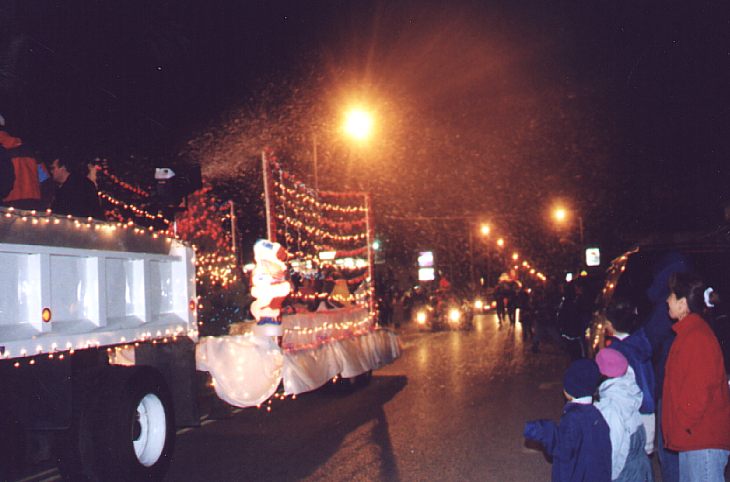 Simulated falling snow- flakes evaporate after hitting the ground -NO CLEAN UPS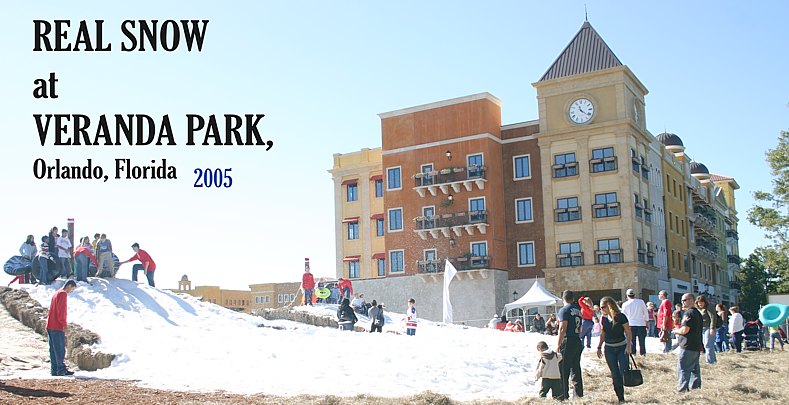 MORE IDEAS Tie-in a radio station broadcast, or invite the local TV weatherman
down to play in the snow while on-the-air "live" (we'll create some falling snowflakes for the
broadcast too)! How about the resulting newspaper pics of the kids playing in the snow
with a SPONSOR logo and mention???
We believe that such snowmaking activities can be 'the foot in the door',
so to speak, or even a featured event.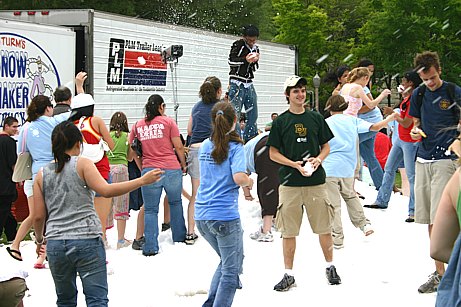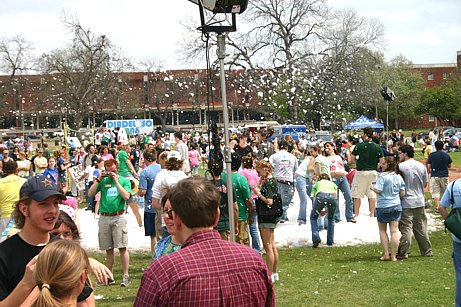 SPRING BREAK -Baylor University, Waco, TX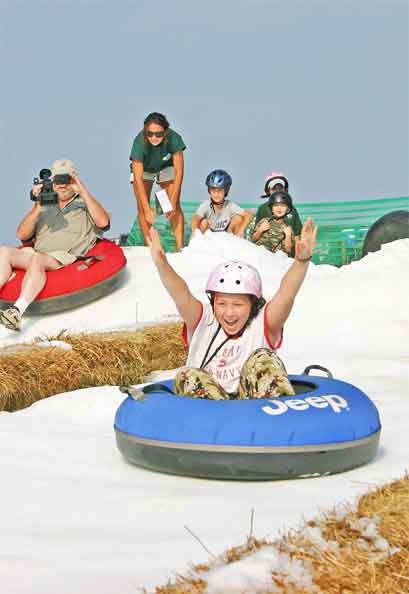 Client- CAMP JEEP Festival



SNOW TUBING IN SUMMER Temperature was 85 degrees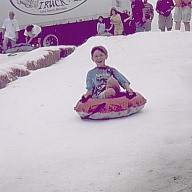 "It seemed logical to take some of our Hollywood snowmaking ideas and techniques
and offer them into the world of PR and special events," said Dieter Sturm.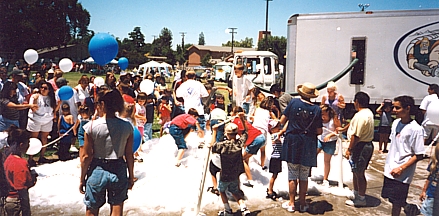 There are dozens of positive media benefits and PR opportunities
by incorporating real snow into your MARKETING PLAN!!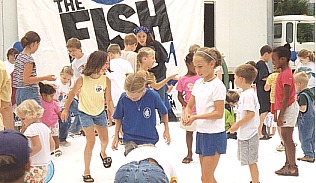 Atlanta WFSH Radio Event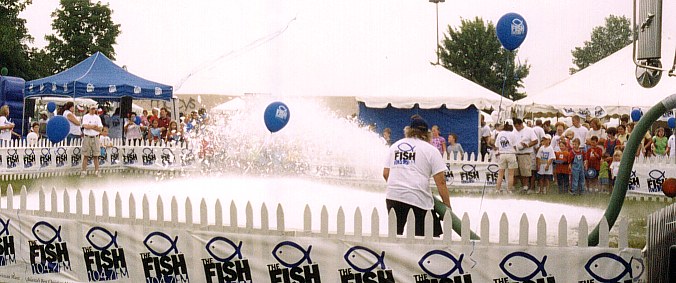 "Its a bit of a trick to create real snow in warm temperatures (even over 90 degrees F.), but we've proven
it can be done. The kids, public, and media love it! Although we will work on single events, we are
looking for one corporate client to have us tour the country for them," notes Sturm.

"Everyone always wants a creative idea
that is new, fresh, and different.
This definitely IS."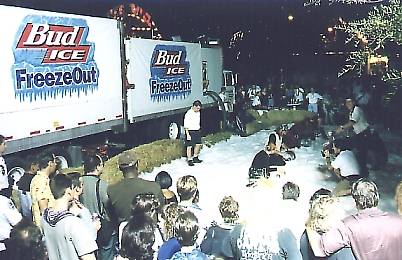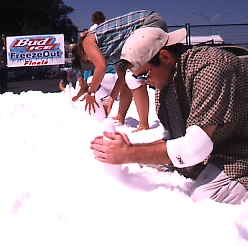 BUD ICE "Freeze Out" Event - Tampa, Florida
(TEST MARKET EVENT)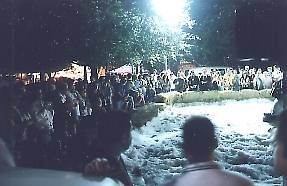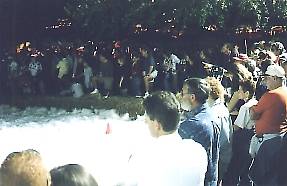 CREDITS


For the past 30+ years, Dieter Sturm has designed and created snow for many motion pictures
and TV projects. Credits include FARGO, SIMPLE PLAN, TRUE LIES,
PLANES TRAINS & AUTOMOBILES, McDonalds, Citicorp, Toro, and a long list to follow.
His prior career was PR Director for the Playboy Resort and 7 years in rock radio as a Promotions
Director. He understands the media and your PR needs.
SNOWMANIATM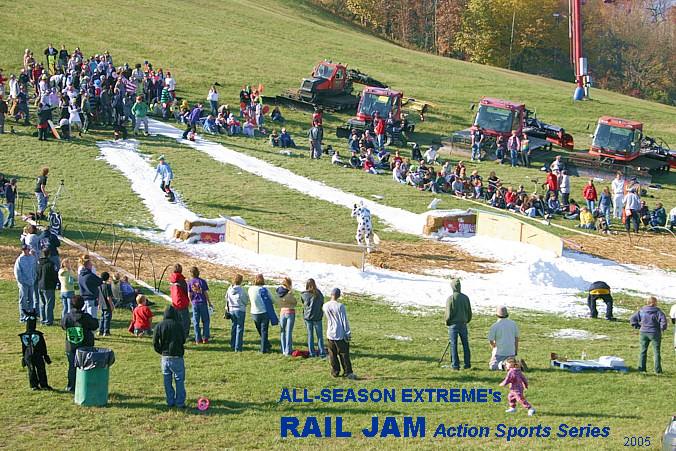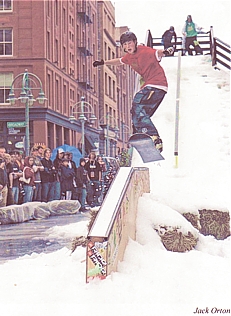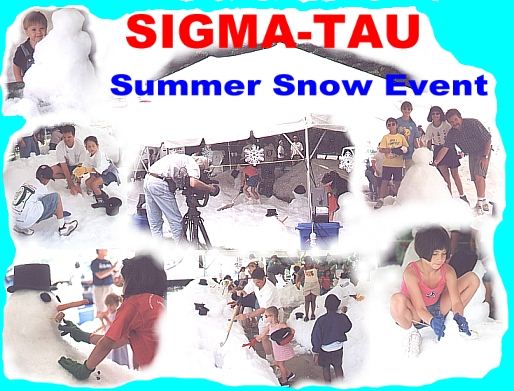 SIGMA-TAU Pharmaceuticals Company Summer Snow Event
Gaithersburg, Maryland July 2000

Add a touch of cool winter
to an 'elegant' event gathering..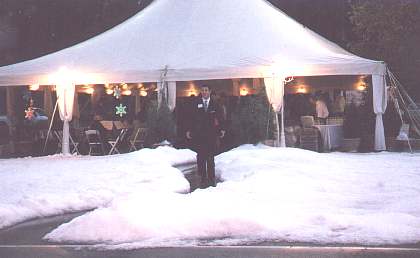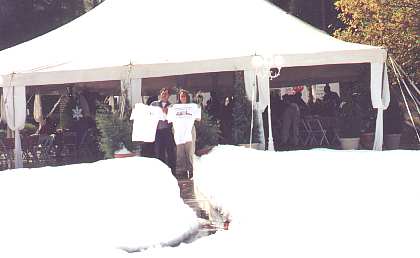 Tallahassee, Florida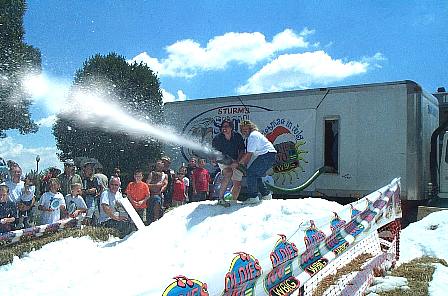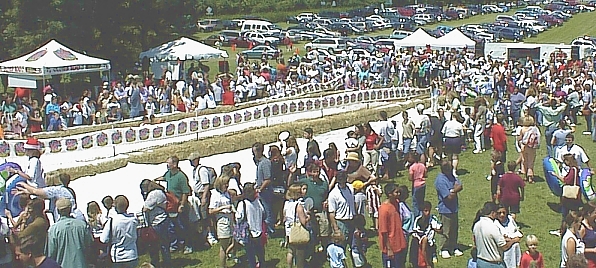 RADIO STATION EVENT -Virginia

MORE SNOW IDEAS...


In addition to making REAL SNOW, we have many more ideas and concepts in development that
could use snow special effects...




* Snowflake Towers * Backpak Snowflake Generators
* Touring Mobile Snowboard Jump * Portable Snow Tube Runs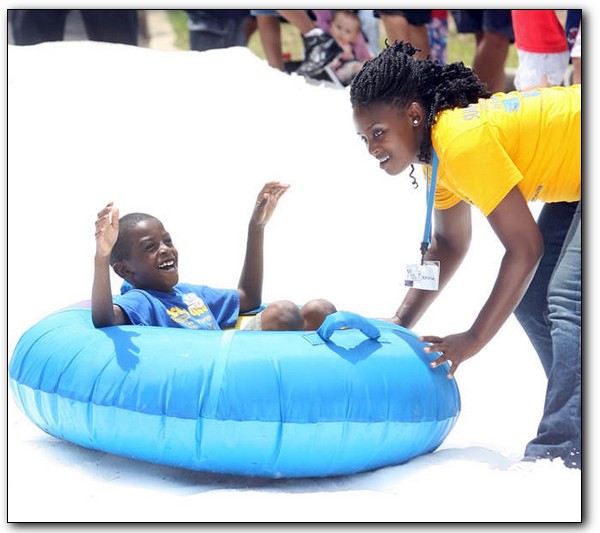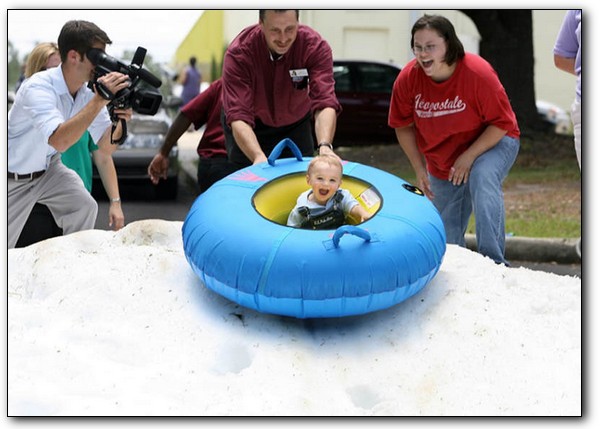 UNIQUE PRODUCT MARKETING
SPRING BREAK - FRUITOPIA South Padre Island, Texas



VOLLEY BALL COMPETITION IN THE SNOW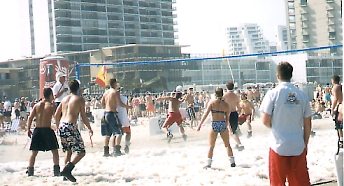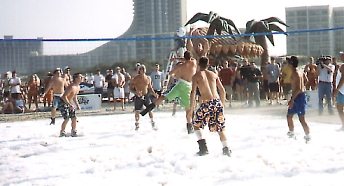 SNOW ON THE BEACH South Padre Island, Texas
"and they said it couldn't be done"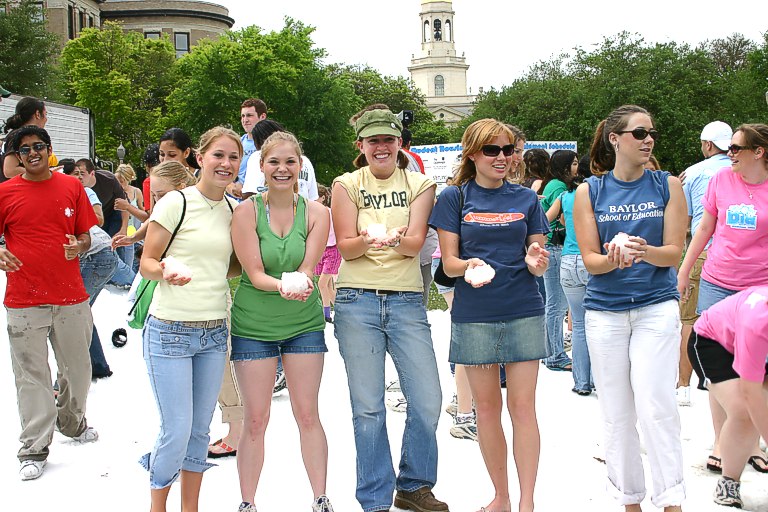 COOL IDEA FOR COLLEGE MARKETING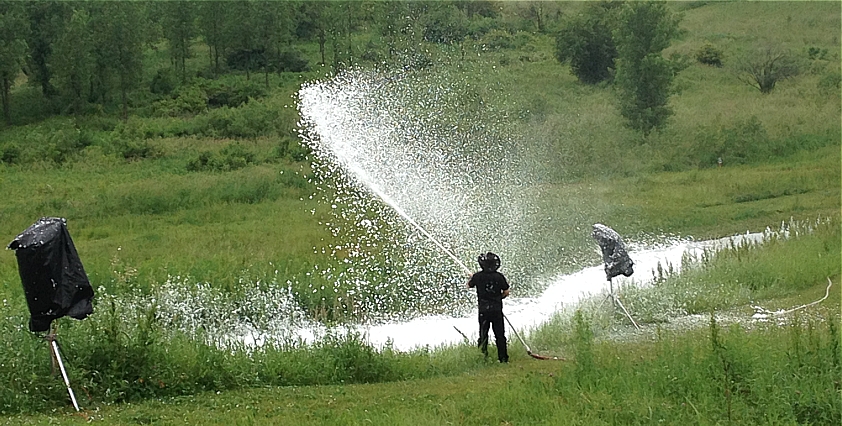 CHECK OUT OUR NEW SPORTS CHALLENGE EVENT SFX IDEAS
We can Design and Build challenge features or enhance the ones you already have!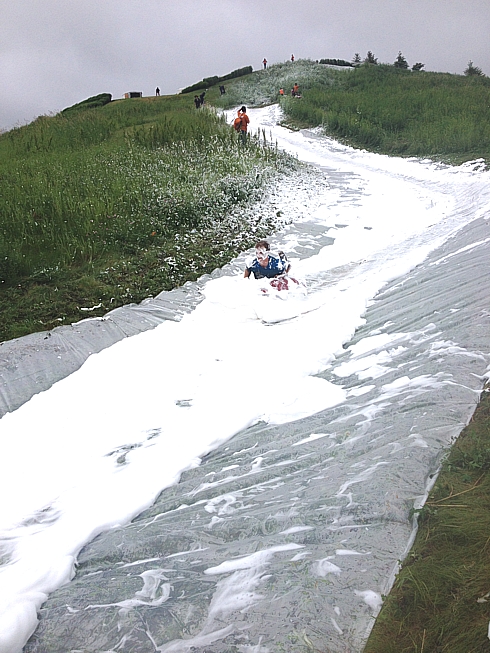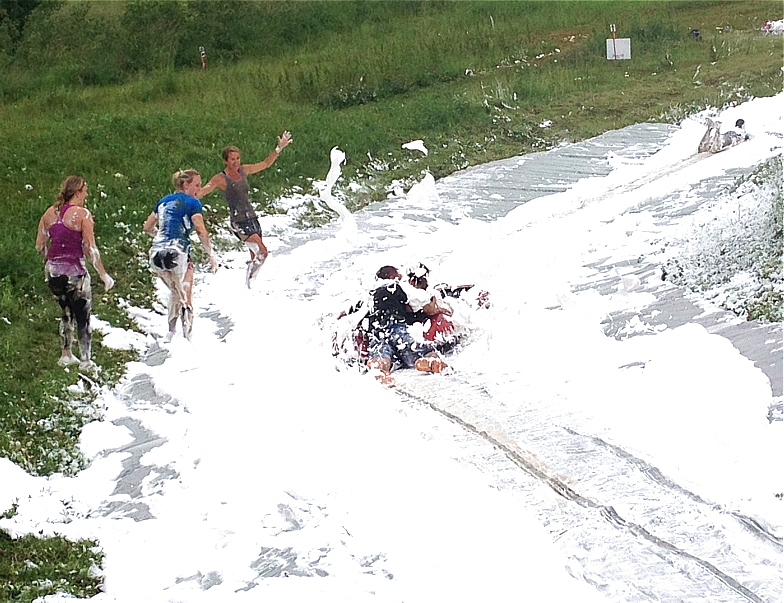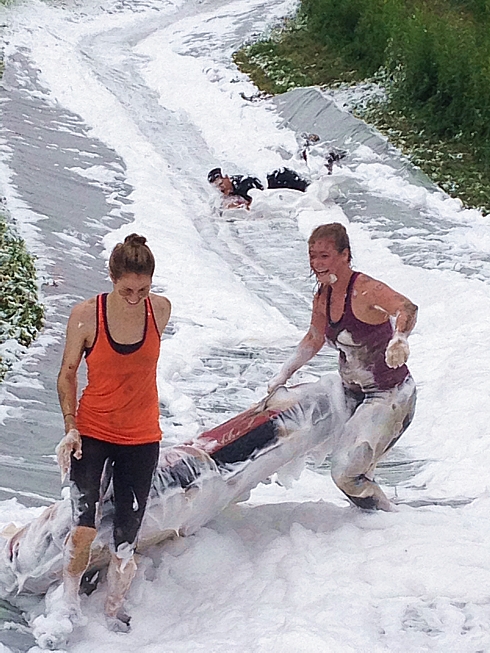 SNO-FOAM TUBING SLIDE

Special Effects (SFX) Smoke and Sonic KaBoom Cannons going off in the "Combat Zone"
enhance the experience......

CHECK OUT OUR WEBSITE AT:

WWW.SNOWMAKER.COM

CREDITS


* 30+ years experience
* ACADEMY AWARD winner
* Major Hollywood credits

ATTENTION SPECIAL EVENT PRODUCERS!!!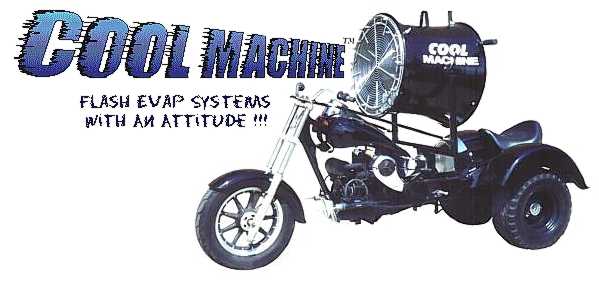 Custom Designed Special Event Vehicles




VISIT OUR HOME PAGE
STURM's SPECIAL EFFECTS Intl., Inc. / SNOW MAKING By STURM
PO Box 691, Lake Geneva, WI 53147 USA 1-262-949-9068

SNOW MAKING By STURM


A Division Of Sturm's Special Effects, PO BOX 691, Lake Geneva, WI 53147
262-949-9068 cell
Contact: Dieter or Yvonne Sturm





SNOWMANIA is a trademark owned by Dieter Sturm ALL RIGHTS RESERVED.