SNOWFLEX TM
SNOWBOARD & SKI
365 DAYS A YEAR!!!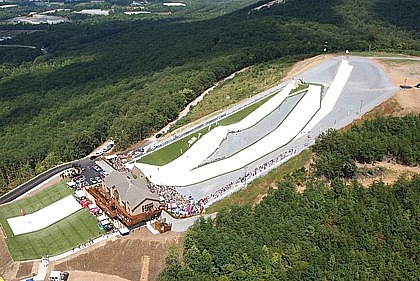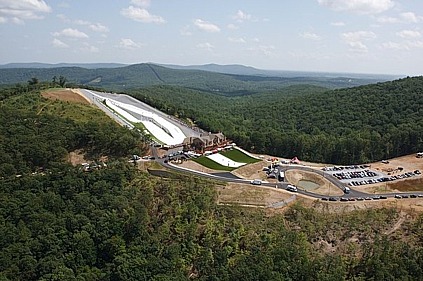 Welcome America's FIRST full slope operation- The Liberty Mountain Snowflex Centre, Lynchburg, VA -NOW OPEN!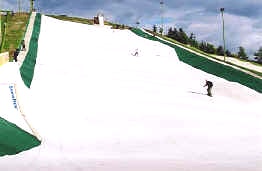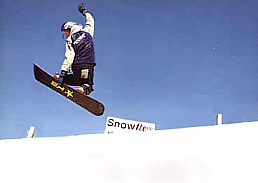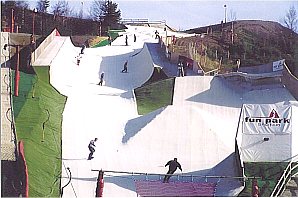 A NEW DIMENSION IN LEISURE.. URBAN SNOW SPORTS
NOW Available In
The United States
From
ALL-SEASON EXTREME & BRITON ENGINEERING
Graphic Intensive... thank you for your patience.
Introducing..



THE TECHNOLOGY THAT BRINGS YOU YEAR-ROUND WINTER SPORTS!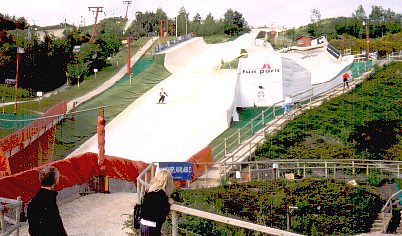 Snowboarding is the world's fastest growing
sport and adds a new facet to the snow
sports market. Everyone recognizes that
skiing is exciting and it is still growing.
All-season snow sports are a relatively untapped market world-wide,
particularly in the developing non-alpine areas. Snowflex™ gives a unique
opportunity to fill this void with an innovative, quality, value for money product.
It is our intention, through Snowflex™ centers,
to change snow sports activities from being rare
treats for the affluent enthusiast to accessible,
safe, exciting pastimes for everyone, family or
individual.

Quality is the key issue and if a high standard is
met with all aspects then the success of this
unique niche should be rapid and rewarding.
THE "COOLEST" CONCEPT TO HIT THE U.S.

According to the SUPERSTUDY® of Sports Participation
by American Sports Data, Inc.
Snowboarding (+51%), Skateboarding (+49%)
and Wakeboarding (+32%)
— three of the so-called extreme or Millennial sports
— were the fastest growing in the U.S. during
the first year of the New Millennium!


All new SNOWFLEX Center- October 2004 -UK
INCOME ENTITIES from a SNOWFLEX CENTER
*Hourly Slope Use Income
*Fees for Instruction
*Competitions
*Exhibitions by Named Experts Weekends
*Sponsorship and Naming Rights
*Equipment Rentals
*Food & Beverage
*Specialty Shops Lease/Rental
*Lodging
and many more.....


Technology... what is Snowflex™?
*SOFT TO LAND ON *CAN BE USED TO FORM CHALLENGING FEATURES
*LOW CAPITAL COSTS *LOW MAINTENANCE *LOOKS LIKE SNOW
*NO EXPENSIVE GROOMING *NO NEED TO BE FLAT AND THEREFORE BORING
*NO EXPENSIVE CLIMATE MANAGEMENT
*CUSTOMER EXPECTATIONS EASILY MET WITH VALUE FOR MONEY EXPERIENCE
To the user - FUN. The two properties that make snow sports fun are that it is 'slippy', for forward
sliding, and that it is 'grippy', a progressive resistance to sideways motion according to the edge
set of the ski / board.
Snowflex™ is a polymer composite, comprising a monofilament fibre and impregnated carrier layer.
This sits on top of a unique shock layer, giving an authentic responsive and reactive feel.
Manufactured in a tile form, Snowflex™ forms a homogenous surface, and can be cut
and formed into complex features and shapes.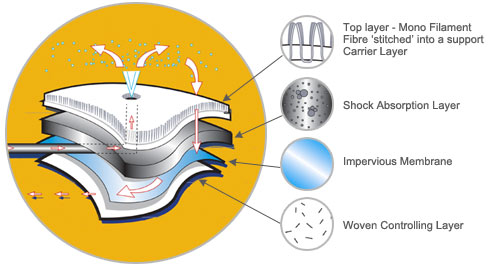 Every component in Snowflex™ has been meticulously researched and tested.
We found that in a simulation of our application, PBT lasts up to 10 times longer than
the PVC that other artificial slope manufacturers use.
Snowflex™ is only made with PBT monofilament.

Contact Dieter Sturm / ALL-SEASON EXTREME
In the United States
For Further Information.
sturmsfx@genevaonline.com
1-262-245-6594

"WINTER WILL
NEVER
BE THE SAME!"

PROVEN -Not Experimental !
BRITON ENGINEERING DEVELOPMENTS
ARE IN THE BUSINESS OF DESIGNING & BUILDING PRO CENTRES-
NOT JUST SELLING THEM..

Ski MOGULS Snow Boarding 1/4 & 1/2 PIPES
NO GROOMING MAINTENANCE

Design Slopes are designed to be excellent training vehicles. The hunger for skill
acquisition means people will take up the activity as a pastime. An exciting slope contains a
myriad of features including waves and moguls, 1/4 and 1/2 pipes.


Measurements of the landscape profile, gradients and features can be taken electronically and
fed into a computer program. CAD enables the slope design to make optimal use of the site
and Snowflex™. Project costs for completed basic slopes
range from US $1 million to US $3 million.


Briton & Sturm will design an exciting multi-entertainment facility
for your business venture from start-to-finish.
Ask us about our Snowflex Center concepts!

PROVEN- Currently, there are 33 active
SNOWFLEX Centers in SUCCESSFUL
operation throughout the U.K.!!!


CONCEPTUAL SNOWFLEX CENTER DESIGN with Hotel Complex

For businesses located in the mountains and snow country,
consider SNOWFLEX slopes for
OFF-SEASON TRAINING FACILITIES!

When a snowsports centre is evolving it is important to include associated businesses
and revenue streams. This may include:
Bars

Restaurants

Snowsports shops

Other urban development income streams: merchandising; sponsorship;
media events; competitions; exhibitions; and corporate entertaining

Other extreme leisure attractions: rock climbing and adventure courses

Other general leisure attractions: cinemas; bowling; and swimming pools
By including some or all of these associated pursuits the center can be
a destination resort and will attract spectators and the general public,
as well as snowsports enthusiasts.


INTERESTED IN MORE DESIGNS &
LAYOUTS, SIZES, COSTS??



Click here for 5 samples and specs sheet!



SNOWFLEX in Hong Kong



Don't have mountains or slopes in your geographic area?
We've spent years in the design & development of our stand-alone concept!



Concept / Design / Programming -
The INTREPID™ Adventure Resort / ACTION SPORTS CENTER / The WEDGE™ Adventure Resort



LEGAL NOTICE- The design of a "signature wedge styled building" utilizing the roof as a ski slope
is owned by All-Season Extreme, Inc. under the United States Architectural Copyright Law.
Use of this architectural design without permission of ASE is prohibited unless licensed.
Copyright Registration number VA 1-713-378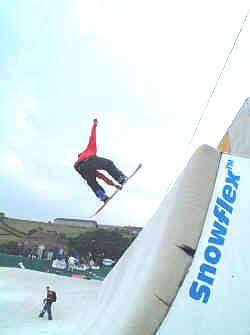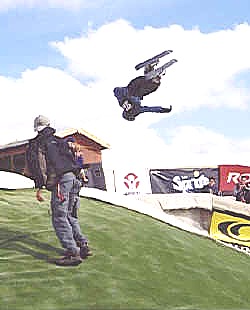 BEGINNERS to EXTREME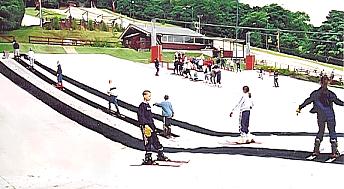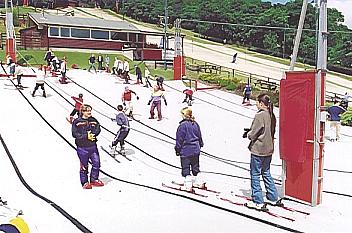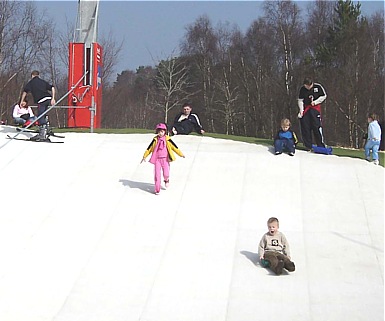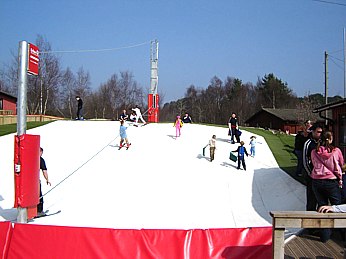 Safety When Briton came up with the idea of Snowflex™ surfaces in
the early 1990's, part of it's design brief was to arrive at a material which contained no
voids or surface metal (features still to be found in some slope materials today). This would make
it inherently safer than its predecessors by reducing the risk of fracturing fingers and thumbs
or spraining knees or elbows caught in holes. The absence of metal means that the risk of
lacerations and torn clothing is also reduced.
The introduction of Snowflex at Kendal S.C. gave us
an opportunity to undertake some serious statistical
work concerning injuries.

Left: Graph showing hand & wrist injury statistics
at Kendal Ski Club, before and after the arrival of
Snowflex in 1997.
Snowflex™ is therefore a homogenous surface, resembling a carpet in it's construction,
yet with a thick shock pad beneath the surface to cushion any impact.

The PRO's are seeing the benefits of off-season training..

British Champion Skier Noel Baxter gave the new Snowflex slope
at Aberdeen an overwhelming thumbs up on the opening day (October 2nd 2004)
as he skied along side British Boarder cross champion Steve Trolland.
THE FUTURE OF SNOWBOARDING-
STURMs GOAL IS TO EXPAND U.S.A. SNOWBOARDING MARKET INTO 12 MONTHS
Lake Geneva, WI In the past year, snowboarding sales have increased 51%. Also, the surge of snowboarding popularity exploded recently when all 3 Olympic Snowboarding medals were won by the Americans. Can the sport continue to grow or is it peaking??
ALL-SEASON EXTREME, a division of Academy Award winning Sturm`s Special Effects Intl., Inc., is gearing up to build SNOWFLEX (tm) slopes and centers throughout North America, according to president, Dieter Sturm. Sturm recently signed with Briton Engineering Developments LTD., U.K. as exclusive rep in the United States and North America.
Sturm believes, "this is just the beginning." Snowboarding is currently bound by geographic location and weather conditions.
"My goal is to extend the 3-4 month snowboarding season into 12 months", says Sturm. "Can you imagine the popularity with new young demographics coming into winter sports when it is accessible to them in their own city across America? We call it URBAN SNOWSPORTS. Wouldn't it be cool to just jump in your car after work, drive just a bit, and snowboard for a few hours each week??? Hit some pipes on the weekend??"
The snowboard equipment manufacturers (boards, boots, bindings, etc.), the apparel manufacturers, and supporting snow merchandise industries have millions of dollars tied up in designing, manufacturing, marketing, advertising, and selling their products in a short time span of the year. "These multi-million dollar companies will see prime opportunities and expanded profits if they get involved early to support our objectives," according to Sturm, "especially when they can sell their products off-season and in geographic regions that they would never have a snowballs chance in hell, to sell little, or anything."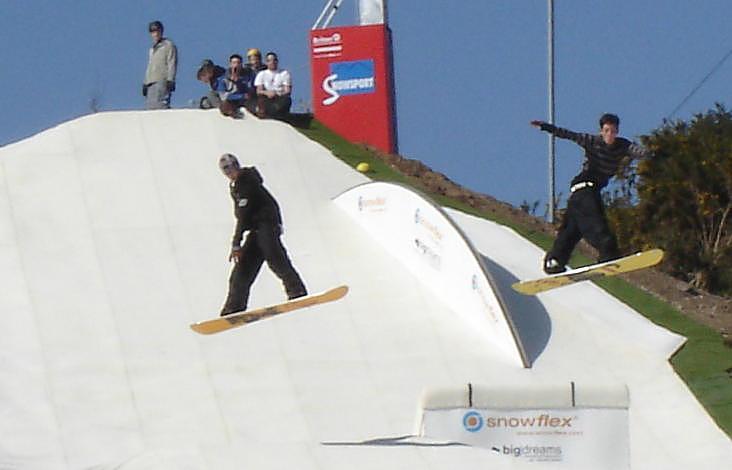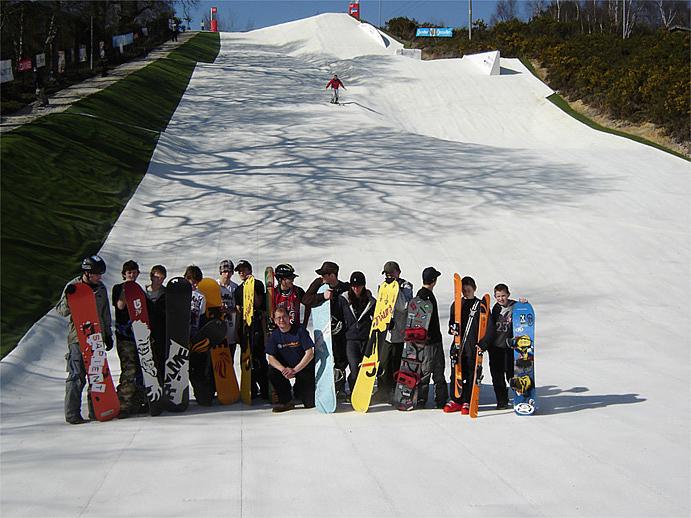 For resort and ski slope owners, SNOWFLEX may be an answer for year round profits too. "Unpredictable! Thats what winter has been for the past 5 years plus here in the US! The snow comes and it goes and the temperatures have been above normal on many occasions! Because of that, I think SNOWFLEX could become "the insurance" that will provide a financial buffer in and off season," says Sturm.
"When it comes to advertising and sponsors getting involved, the SNOWFLEX Centers will provide the vehicle for incredible "extreme" media and customer exposure," says Sturm. "Everyone from the X-Games, ESPN, Gravity Games, The Extreme Channel, Octagon Sports Marketing, Fuse Sports Marketing, USASA, and soo many more all want to get involved. Everyone knows this system will open the doors wide open in making the sport of snowboarding stronger than ever."
SNOWFLEX Centers can be built anywhere (even where snow never exists), in any climate, and can operate 24/7.
PROVEN- Currently, there are 33+ SNOWFLEX Centers successfully in operation in the U.K. designed and built by Brian Thomas, Director of Briton.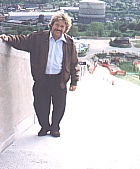 Dieter Sturm on SNOWFLEX Slope in England.
In the US, Sturm is actively seeking interested businesses, resorts, attractions, parks & recreation groups, and sports-related venture capital to begin building the slopes and centers as soon as possible. "Once the first SNOWFLEX slope gets built here in the US, the concept is going to explode", notes Sturm, " I'm positive! We just need someone to step up to the plate with the finances to get one built here."
Sturm, an expert involved in innovative winter/snow projects for the past 21 years (also an Academy Award winning Special Effects Coordinator for film and video), indicates there are great advantages to using Snowflex.
"First, real snow will always be real snow. Period. We are never going to say that SNOWFLEX replaces the real stuff, that's certainly not true. What we can say is that you now have the most technically advanced synthetic surface ever available to practice and have fun on.. off-season", Sturm smiling.
The surface responds; you can carve, plow,,,, the material is soft and safe to land on (unlike the traditional dry slope surfaces of past), it can be used to form fun and challenging features like 1/4 and 1/2 pipes, does not require expensive grooming, offers off-season "real training" for professionals, provides an excellent "teaching/learning" environment, and creates a snow-related sales center on a year round basis.
Snowflex, the revolutionary artificial snowboard and skiing surface, has two properties that make snow sports fun- they are that it is `slippy`, for forward sliding, and that it is `grippy`, a progressive resistance to sideways motion according to the edge set of the board / ski. Snowflex is a polymer composite, comprising a monofilament fibre and impregnated carrier layer. This sits on top of a unique shock layer, giving an authentic responsive and reactive feel. Manufactured in a tile form, Snowflex forms a homogenous surface, and can be cut and formed into complex features and shapes.
"I am so excited to bring Snowflex to North America. With the current trend and popularity of snowboarding, this new-tech material answers the most asked question.. well, where can I snowboard? Now you will be able to snowboard 365 days a year hopefully in every U.S. city! Winter will NEVER be the same", Sturm grins, "this IS the future, I'm ready for the challenge!"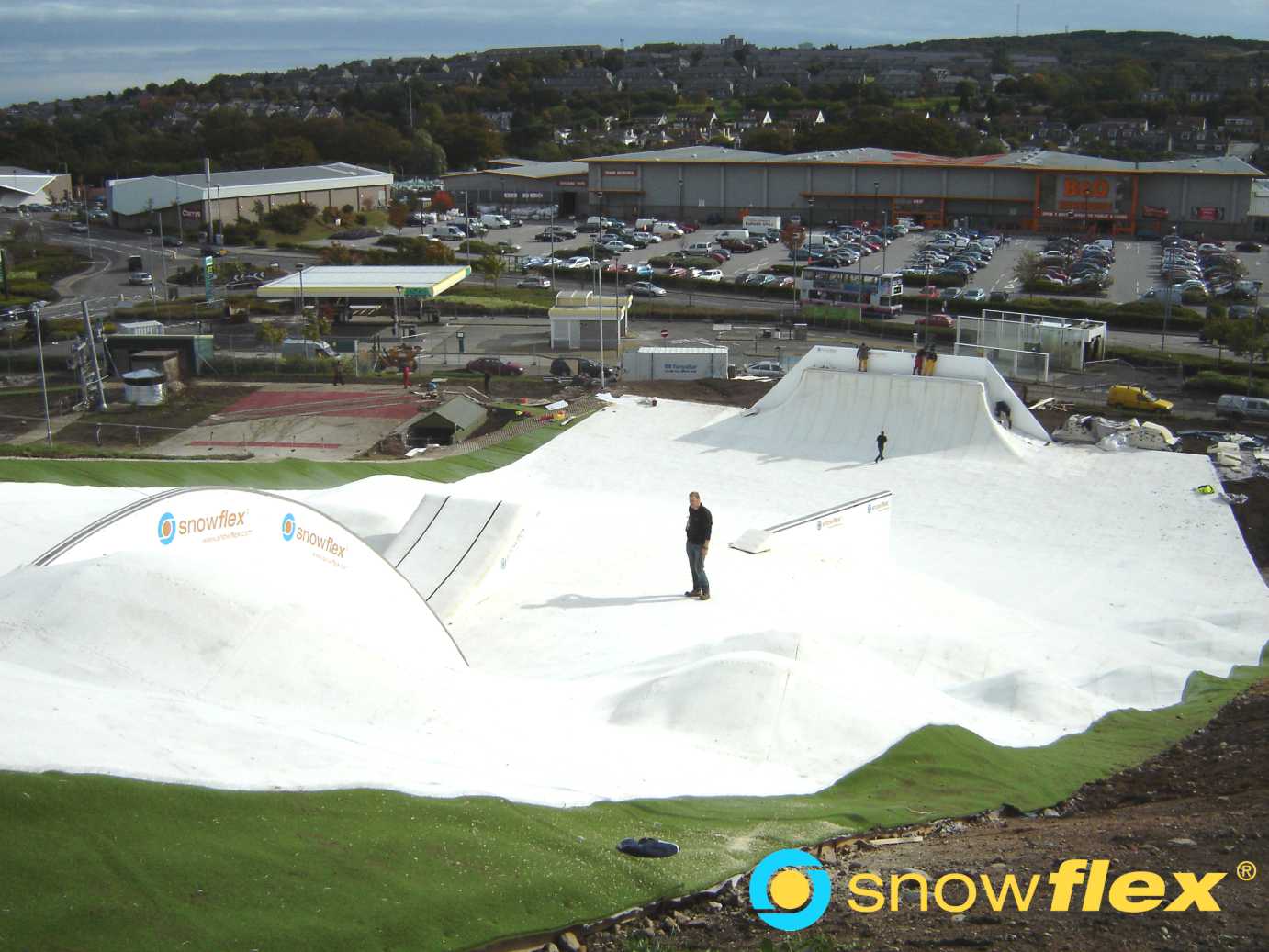 WHATS NEW WORLDWIDE
CHECK OUT SOME OF THE LATEST SNOWFLEX PROJECTS,
COMPETITIONS, & NEWS UPDATES FROM AROUND THE WORLD!
ALL NEW WEBSITE ! ! !
Click Here


TRAXFLEXTM
From BRITON ENGINEERING USED For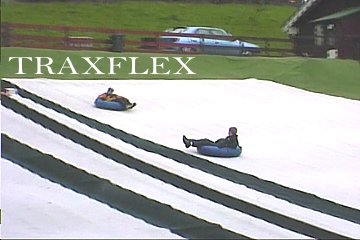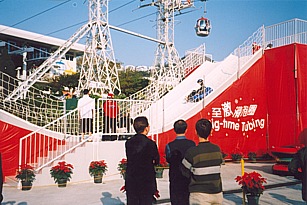 YEAR ROUND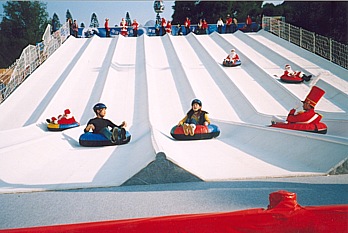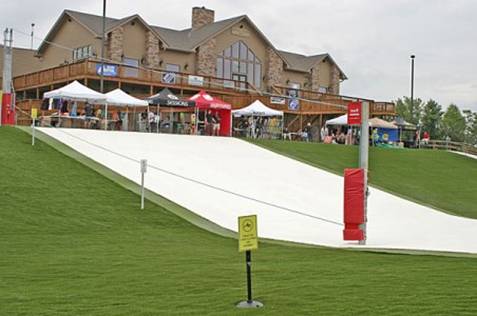 SNOW TUBING!

COMPARE SURFACES
We want you to shop around and COMPARE the differences of SNOWFLEX to
other brand surface products that claim to be high-tech and high in performance...
sure these manufacturers will give you a cheaper price, but realize they are trying to sell you
a surface system that has been used for many years for synthetic sledding
and are now trying to sell it off as a performance snowboard surface.
Ask yourself WHY dry-slopes in the UK are being retrofitted
with SNOWFLEX rather than their old products??
Also, ask about durability.. you will see the "long-term" differences!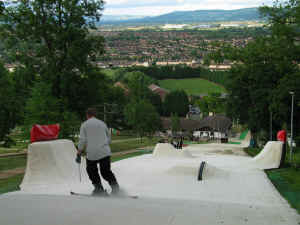 THE FUTURE OF SNOW SPORT TECHNOLOGY
IS NOW !

New SNOWFLEX Grind Rail & SNOWFLEX Aerial Jumps



VIDEOS - SAMPLE THE ACTION!
GO TO YOUTUBE and SEARCH Snowflex
http://www.youtube.com

Contact Dieter Sturm / ALL-SEASON EXTREME, Inc.
In the United States
For Further Information.
dsturmfx@aol.com
1-262-245-6594



THE TECHNOLOGY THAT BRINGS YOU YEAR-ROUND WINTER SPORTS!
HOME

SNOWFLEX is a registered worldwide trademark owned by Briton Engineering Developments Ltd. 2002
STURM is an exclusive independent representative for BRITON in North America.
VIRTUAL SNOW mentions used by BRITON in different countries is a registered trademark in the USA owned by Dan Owen.