Sturm's Special Effects International
SSEI
and SPECIAL EFFECTS EQUIPMENT RENTALS
In our 30 th year of live-action
special effects coordination and design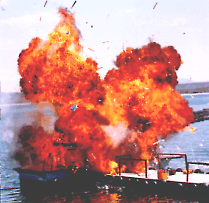 House Boat Explosion / New Mexico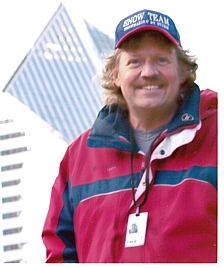 Special Effects Coordinator- Dieter Sturm

Live Action Special Effects Services We Offer
For Motion Pictures, TV, TV commercials and Still projects
Mechanical/Special Rigs, Gadgets, and Contraptions
Where you do find a device that will: spit out envelopes,
shoot flames, shatter glass or mirrors on cue, or bounce, turn, spin, rotate, flip and slide?


Our 45ft Special Effects/Shop Trailer
That's where SSEI fits into the picture. Our crew will custom design, construct, test,
and execute mechanical effects to fit your needs.
Combining creativity with mechanics, electronics, air logic, radio control,
hydraulics, and special custom designed riggings,
we can create magic before the lens of the camera.
Environments
Mother Nature's environments are recreated by SSEI crew to provide you with the most realistic
"controlled" weather conditions possible.Over the years, SSEI has become synonymous
with the creation of the very best in winter scenes.
With custom equipment (Snowmaker truck, Whisper snow guns, etc.),
and propriatory materials (Bio-Snow 2, WaterSculpt snow batting),
winter can be produced year round no matter what the weather or climate.
From light sprinkles to heavy thunderstorms, slight breezes to hurricane-type winds,
our SSEI crew and custom equipment can simulate weather of all seasons.
Don't forget the many types of fog we can produce.
From hints of haze to rolling London fog, we can create the look you require.
Pyrotechnics
Our professional pyrotechnicians can safely burn down a house, explode an automobile,
simulate sparking downed power lines, or create bullet hits on props and walls.
We can coordinate and execute any effect that has to do with fire, sparks, explosions, or smoke.
We are ATF licensed for low and high explosives work.
Our goals are to create realistic visuals for the camera while maintaining the
highest standard of safety on the set.

SPECIAL EFFECTS
RENTAL EQUIPMENT
from STURM
As of May 2014

Snow – Ice

Sturm's Snowmaker Truck
Large Snowflake Generators
Small Snowflake Generators
Sno-Foamer Small Portable

Sno-Foamer Large Trailer System
Portable 500 Gallon Water Tank with High Pressure Pump
Air/Water Snow Guns
Snowball Machine
Portable 100 CFM Air Compressor
Fans - Wind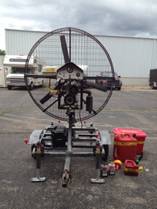 Large 35 PH Wind Machine on Trailer
10 HP Honda Gas Fan
Squirrel Cage Blower
Small E-Fans
Fog – Smoke Effects

Martin MAGNUM PRO 2000
Electric, 1500 watt wired remote, timing system, for indoor or outdoor use

London Fogger
Gas powered portable, high outputs, for outdoor use

IGEBA Jet Fogger
Gas Ram Jet portable, high outputs, for outdoor use
EXTREME Smoke / Fog System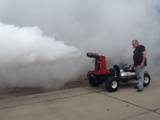 Jet Turbine portable, extreme high outputs, for outdoor use

KoolFog Mist System
110V / AC High Pressure, Cold Water System
___ Electric High End Systems F-100 Fog Machine
___ Hazer Machine
Rain -Water
Rain Towers
2-1/2" Hose, 1-1/2" Hose, ¾" Hose
Pumps
Manifold
Valves
Poly Tanks –Various Sizes
Fire Effects
Fire Bars
Fan Tails
Hose
Burning Barrel
Campfire
Fireplace
Flame Towers
Mortars
Mechanicals
Electric Shakers
Quick Release Trips (Small & Large)
Other Cool Special Effects
Bubble Machine
Backpak Flame Thrower Prop
Soap Suds Generator
EXPENDABLES
Snow Products
Sno-Foam Concentrate
SnowFlake Solution
WATERSCULPT SNOW BATTING exclusively from STURM
Fog - Haze
Fog Fluids
Dirt - Dust
Fullers Earth
Cork
Ask us about our STUNT AND WEAPONS associates!

Go to Sturm's Special Effects
Live Action Credits.

Go to Sturm's Special Effects Intl.
Pyrotechnics/Explosives Services

MAIN HOME PAGE

Email us for further information dsturmfx@aol.com
Sturm's Special Effects Intl., Inc. P.O. Box 691, Lake Geneva, WI 53147 USA
Phone: 1-262-245-6594